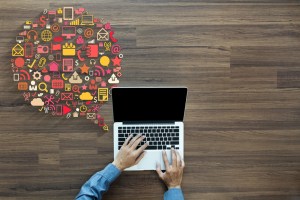 If you are part of a small law firm, creating an effective marketing strategy can be daunting. You may find it difficult to compete with larger companies in your area with more marketing dollars to spend.
You've no doubt heard the phrase, "It takes money to make money." That's easy to say when you're an enterprise-level company, but what if you're a smaller company or a solo practitioner?
You don't have to just wait until you have more income to play. Having a strong online presence for your practice is extremely important in 2022 and there are many impactful strategies you can use that won't break the bank. In this post, we detail 20 low-budget strategies and tactics that are perfect for marketing small law firms. The following strategies are critical to generating awareness and revenue for your business.
Marketing for Small Law Firms: 20 Key Strategies for Success
The following 20 strategies are key to helping scale a small law firm's marketing efforts.
1. Know your customer
It doesn't require a ton of resources to simply be educated on who is the best fit for your services. When it comes to marketing, you will be more successful in specific niches. Understand your audience, what their challenges are and what drives them to make a decision about a lawyer. You can start by creating an ideal customer profile, check out this free guide for help with that: A law firm's guide to creating an ideal client profile.
2. Emphasize your value proposition
Hopefully, there are differences between you and your competition. You must be able to explain these differences and emphasize them in yours content and marketing efforts. Make sure you properly convey the things you do better than anyone else.
3. Focus on your highest impact goals
The world of marketing is growing and there are endless options to explore. We suggest you identify where you can have the biggest impact and create singular goals around those areas. Set specific performance goals in one or two key areas and focus your efforts there.
4. Take advantage of short-term plays
These are the wins that will give you a higher return on investment (ROI) and a little more revenue to put towards new activities, and things will snowball from there. For example, Search Engine Optimization (SEO) is a long-term game that, while important, will take time to manifest ROI. Instead, you might find it paid advertisements immediately generate leads you can work with right now.
5. Reduce what works
After you've experimented with a few initiatives, you'll get web analytics data from Google Analytics (which can be set up for free) about what's working and what's not. When your budget is tight, make it a point to double down on what works. You can try to do more in other areas once you have a bigger budget.
Related: Introduction to using Google Analytics for law firms
6. Market to existing customers
According to Harvard Business Review study, it costs five times more to acquire a new customer than to close an existing one. Focus on strategies that allow contracts to be extended to new services, top sale, However, you'll need to be confident that you're consistently delivering a positive experience to use these tactics.
7. Use free promotional tools
There are plenty of options available that can move the needle before spending any money. Check this out list of marketing tools to give you an idea of ​​what's free and why you should consider paying.
8. Create a website to own your online presence
No matter how small your office is, having a professional website is important. It's the first impression most people will have of your company, and it's an asset you'll always have (which provides a lot of flexibility). Don't make a website that's just an online brochure. Use your website to explain who you are and why people should work with you, while at the same time ensuring you optimize to capture potential customers and feed traffic.
9. Think about the blog
Blogging it's a great way to generate organic traffic, especially for those potential customers who haven't made a decision yet. Plus, it can establish credibility in your niche and position your attorneys as thought leaders. Even if you only post once a week, it will improve your website's visibility online and help educate your potential customers on why they should trust your company.
10. Take advantage of social networks
Social has become a powerful business tool. Not only is it a great way to promote your business, but it can also help with SEO, increase your website's domain authority, and help you engage with your audience. Social media is free – take advantage of what's available.
11. Invest in social media ads
Google Ads and programmatic advertising are a smart play when you know your audience is actively searching for your practice areas online. However, these forms of digital advertising can be quite expensive. For a lower cost per click, you can advertise on social networks via LinkedIn or Facebook (whichever channel is more likely to find your target audience). Both platforms offer a high level of targeting, using both demographic and behavioral attributes.
12. Make sure you are capturing information from web leads
If you're driving traffic and visibility to your website, you should eventually be able to capture contact information from potential customers. Consider implementing a conversion tool like this Free HubSpot Marketing. For using this tool to add a popup widget to your website, you can start collecting the email addresses of potential customers. The goal is to get people to submit their email addresses so you can nurture them through the buyer's journey.
13. Nurture leads with email marketing
Once you capture leads, it's essential nurture they. It's unlikely that any of these people will need a lawyer right away, but you can stay on top of it when they do. Email marketing is a free, easy and scalable way to communicate with new and old potential customers. This marketing tactic is especially important for small law firms that don't have the resources to test marketing automation. This will help streamline communications and make the process easier.
14. Manage relationships with a CRM
Marketing works best when you can send targeted and personalized communications. The ability to do so is based on a CRM system where you document your contact information. A CRM also stores data about your leads, prospects, and customers so you can track interactions and identify sales opportunities more effectively.
15. Encourage word of mouth
This is the traditional channel where lawyers get new clients. Creating a great experience for your customers can drive them to recommend your business. Do what you can to collect reviews, client testimonials and even case study material, which are crucial to marketing both small and large law firms. Create a referral program to reward people who tell their contacts about your company.
16. Create a "Google My Business" profile.
It's free and has become essential for local SEO for law firms. Your Google My Business profile it is likely to be one of your most valuable marketing tools. It's what allows your business to appear on Google Maps and in the local section of Google Search. The more you optimize your business profile, the better it will perform in local search results. Note: Make sure you've verified ownership of your profile, which is done through your Google My Business account.
17. Create a lead magnet
Lead magnets are closed content offered in exchange for contact information such as email addresses. These contents are of an educational nature. Some ideas for lead magnets are e-books, on-demand webinars, white papers, infographics, etc.
18. Host a webinar
Chances are you already have access to a Zoom account that you can use to host a webinar. You can easily take advantage of other free tactics to promote it, such as social media posts and email. This is a great way to generate more leads as you will collect email addresses from those who sign up and can continue to engage with them via email.
19. Connect with thought leaders
Chances are there are many thought leaders in your industry, possibly from larger companies, who have already attracted an engaged online audience. Find ways to engage with their existing communities by commenting on thought leaders' posts and joining the industry groups on social media and interacting with posts with relevant hashtags.
20. Offer incentives and discounts
Even though law firms don't participate in typical consumer marketing rebates, there are still ways to take advantage of incentives to help win more business. For example, consider offering a free consultation to those interested in your services, or offering discounted services to those in need or to a portion of specific groups you market to.
Take away
Digital marketing success for small law firms can seem out of reach if you're working with a small team or a limited budget, but it doesn't have to be. There are many free or low-cost strategies that small businesses can use to increase online visibility, capture leads, and gain new customers. And of course, don't be ashamed to ask for help. Sometimes the best way to get new clients, faster, is to work with an agency that has supported law firms like yours before and understands the market.
This post has been edited and republished since July 21, 2021.
[ad_2]

Source link